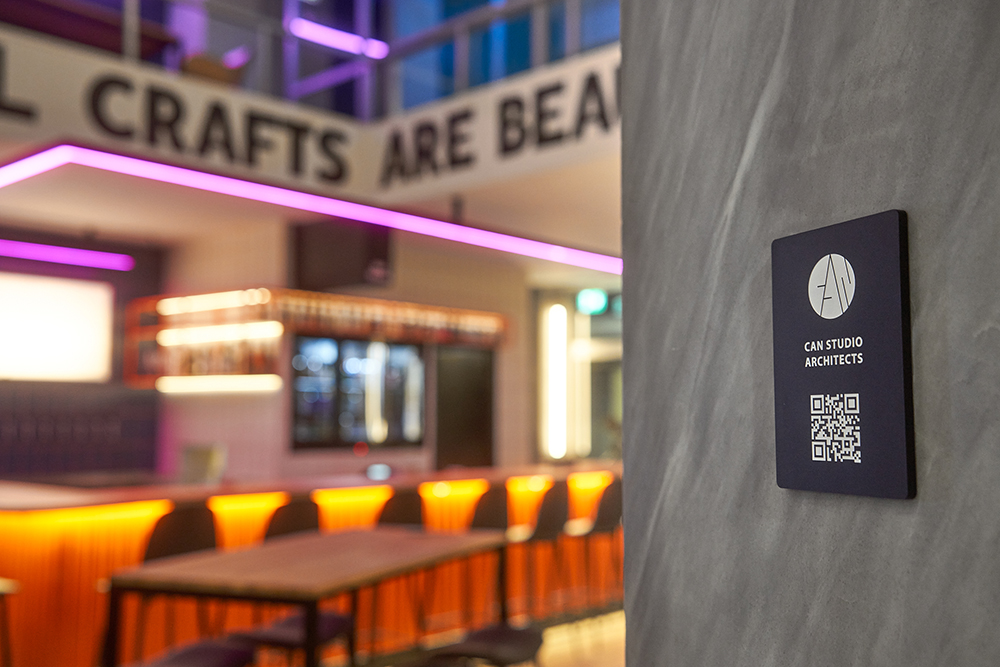 Architectural / interior design- Supervision : Lambros Antaras
Graphic design / Artwork : Lambros Antaras
Location : Gladstonos 11, Mavili Sq., Thessaloniki
Area: 140,00 m2
Design – Construction : 2022
Photo credits : spyros.karvounis
After 3 years touring around Greek breweries, utopia craft beer decided to take a step closer to every craft lover's "utopia" and create its own taproom. The store, chosen together with Can studio, in one of the most original neighborhoods of the city centre, is nestled in a dominant modernist building on Mavili square. Following the company's brand identity (which was the first collaboration project with our firm) while considering the unique character of the space, the new taproom is designed with a contemporary architecture approach. We chose to preserve both the style of the store and its original materiality.
The minor intervention is mainly focused in the big bar counter that should house 13 wall mounted beer taps exclusively filled by independent microbreweries.
The design approach is deliberately far from the established pub design. Vibrant colors on paints, tiles and furnishing create clear geometries within the space, highlighting the new interventions in contrast with the white and beige shades of the existing materials. Variable heights of furnishing are chosen to facilitate diverse functions of the space when housing periodic events.
Apart from the brand name placement, all the existing structural elements, windows, marble surfaces of the façades are preserved, without altering the distinctive modernist features of its original design.