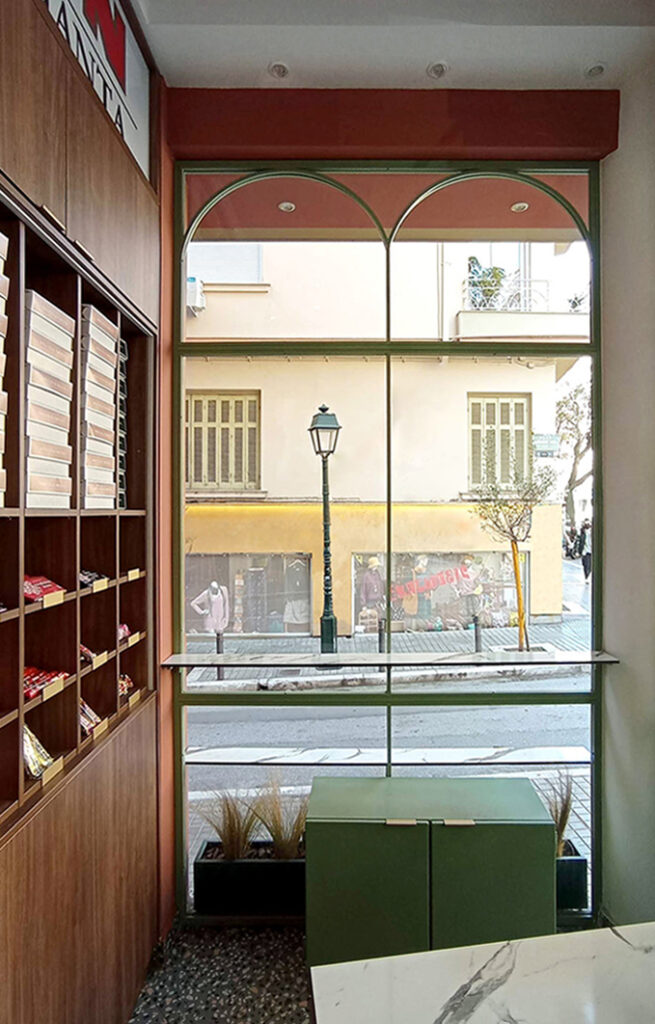 Customer: Eri's corner
Architectural design/interior design: Chrisoula Fotsitzi
Construction: Polizoidis Advertising and Interior Constructions
Graphic identity: Purblanc
Project location: Tsimiski 124,Thessaloniki
Built area: 15,65 m2
Design Phase: 2020
Completion Year: 2021
Photo credits: CAN studio

The project refreshes the image of Eri's donuts, a take away donuts and coffee store on Tsimiski Street, one of the most central and commercial streets of Thessaloniki. The client's request was to create an elegant store, which would attract the eye of one passing by, while preserving and emphasizing the architectural forms and typology of the buildings of the historic street.
Our intention was to recreate the atmosphere of Milanese cafes of the 1950s-60s, same era to the store's building age. Utility and storage spaces were lined by veneered wooden panelling (formica) to reproduce the style of the period, and the walls were covered by wallpaper. We chose a terrazzo floor speckled with flashes of pink, black and white. Shades of mint were also applied to the steel elements of the bench front and to the ovaloid glass frames. The complementary terracotta colour creates congruous contrast and attracts the people passing by. All the details are dressed with brass trimmings.
For functional purposes, the counter changed place and extended to the outside of the store, wrapping around the column. The aim was to create a serving window on the street. The entrance was placed in a recess so that the angle is easily perceived.