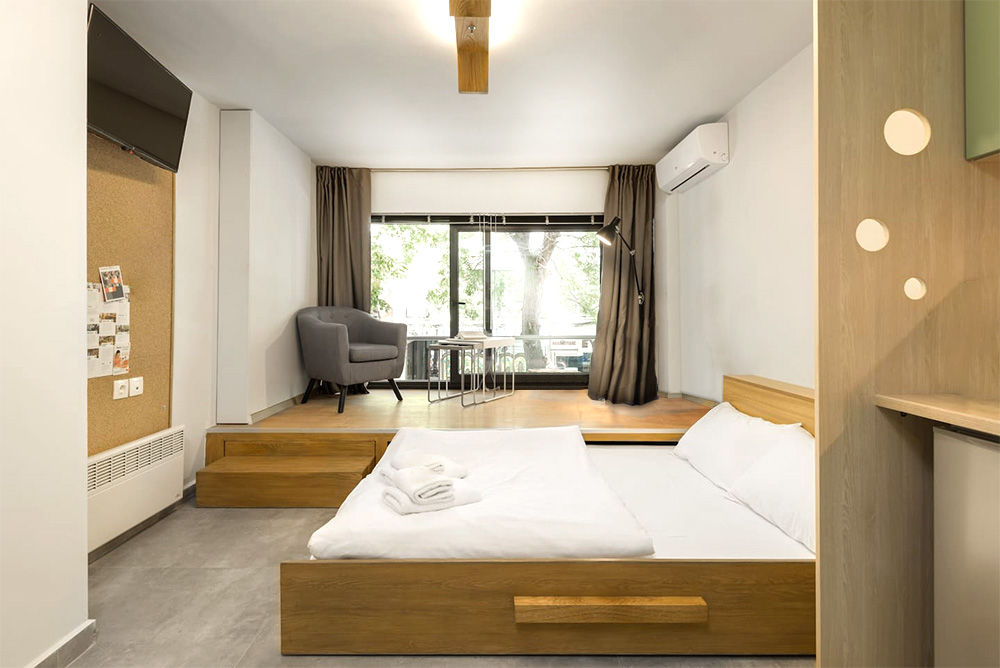 Architectural design/interior design : Eleni Kompatsiari, Sofia Chatzigeorgiou
Location: Siggrou, Thessaloniki
Area: 25,00 m2
Design : 2018
Construction: 2018
Photo credits : Kim Powell
It is a small 25 m2  apartment in the center of the city, adjoining an area known for its nightlife. It is aimed at students and young people in general, for short and long term rentals.
In order to better manage the confined space, the design was based on variability and adaptation to the needs of the user. The building's components are transformed to make the compartment fully functional and ergonomic. Thus, easily and as per the requirements, it is transformed from living room to dining area or/and bedroom. The table closes in the built-in wardrobe, the chairs are stored in the special cabinets, the bed is slipped and opened under a wooden walk-in structure. This construction creates an elevated living room next to the large, bright window of the apartment. Comfortable storage areas are fitted to maintain clean lines and clean shapes.