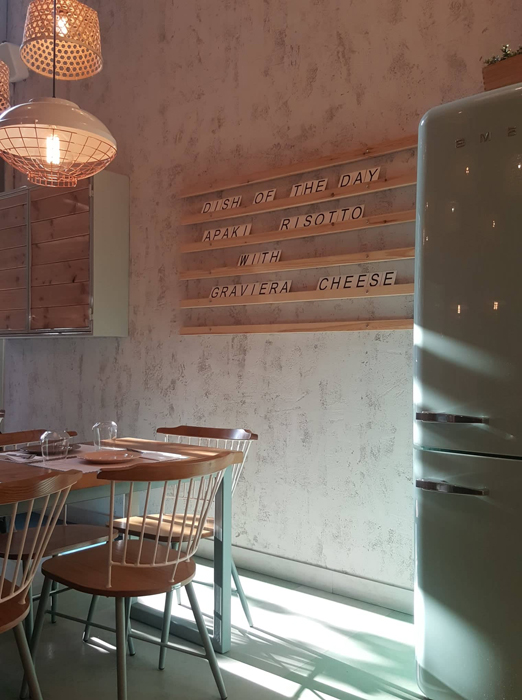 Architectural design/interior design: Chrisoula Fotsitzi, Georgia Perdiki
Structural design: Dimitris Siomos, Giannis Chourpouliadis
MEP design: Panagiotis Siagkas, Giorgos Hatziagelou
Project location: Verias 5, Ano Ladadika, Thessaloniki
Built area: 74,00 m2
Design Phase: 2017
Completion Year: 2017
Photo credits: Vicky Hatzinikolaou, CAN studio
"Mahalo" is a Hawaiian word meaning thanks, gratitude, admiration, praise, esteem, regards, or respects.
Mahalo restaurant is the sequel of an earlier project, Mahalo Food Truck, a retro Citroën van, transformed into a canteen that used to serve gourmet street food inspired by all over the world.
The design concept is based on the ethnic influence of its kitchen and the desire to provide a cozy, colorful, even tropical sense of an open beach bar. This opposes to the rough, grey urban landscape of the industrial area around, something that attracts the pedestrian's attention.
The kitchen area projects to the restaurant area in form of a wooden kiosk like an open bar and provides eye contact to the client.  The floor is laid with a pattern of vinyl tiles of different shades of the green-yellow palette. A linear pot full of tall tropical plants dominates in the space and plenty of lighting fixtures made of reed give an exotic sense. A huge monastery table of uncrafted wood and wooden picnic tables accentuate the homely warmth of the garden. The choice of textiles follow the same principles with the use of mint palette and tropical patterns.