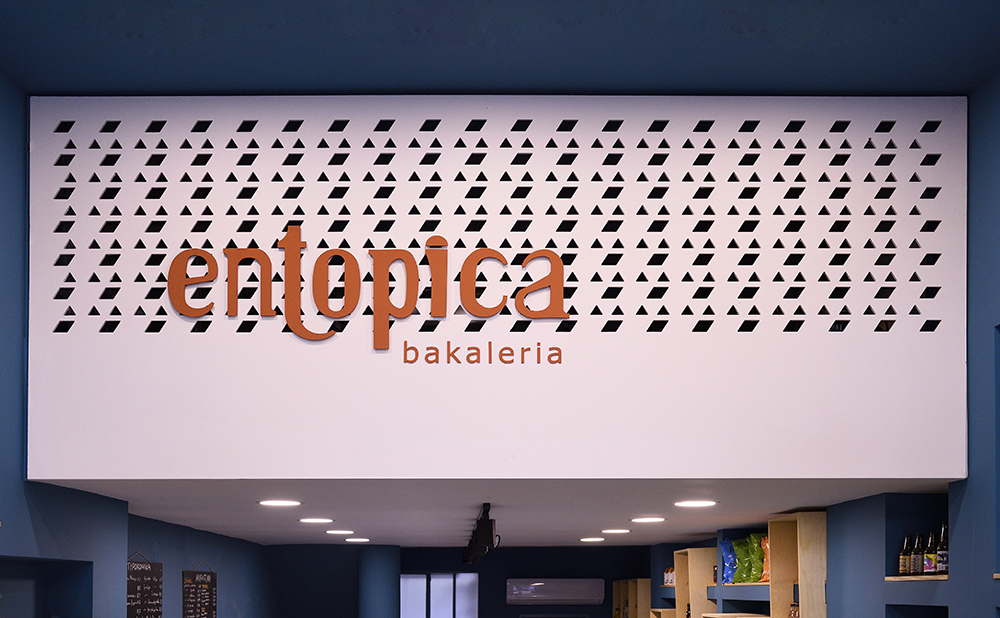 Customer: Εntopica bakaleria
Architectural design/ interior design/ graphic identity: Lampros Antaras, Eleni Kompatsiari
Location: Kastritsiou 15, Thessaloniki
Built area: 65 m2
Design-Construction Year: 2021
Photo credits: studiovd
Εntopica bakaleria is a grocery store with greek fine products (various cheeses, cured meat products, olive oil, pasta, herbs etc.).
The aim of the design was to combine modern styles with traditional ones, the abundance with the gourmet, the austerity with the causality and earthly look. Furthermore, a main objective was the need to provide versatile furnishings in size and quantity for all food products according to season.
The two-pole modernity and tradition defined the store's brand identity and formed the color palette and the materials chosen. The clay lamps, the wooden furniture, the wicker baskets, the geometric floor with rhombuses and triangles, the cement plaster in earth colors and the pattern on the perforated surface behind the signboard, are elements chosen to support this identity.
The ability of transforming was achieved through custom designed store fittings. The rectangular frames can be moved along horizontal lines-shelves so as to reshape the setting each time. Moreover, the modules -square boxes that shelves are made- have been designed to be unattached for multiple formations.
In terms of the space layout, the refrigerators were placed in the second half of the store. This, along with the restoration of the double height in the first half and revelation of the facade skylights make the store more inviting to the customers. In the center of this space, metal display counters in rhombus shape are designed to welcome and allow the easy flow passage of users/ customers. Right above are the three organic and irregular shaped light fixtures custom made for the store by the ceramist Olympia Letsiou. The roughness of the handmade ceramic achieves a contrast with the shine and silk of the metal.
Lastly, the design of the store's identity evolved into a logo, a signboard and other graphic applications used in the store.