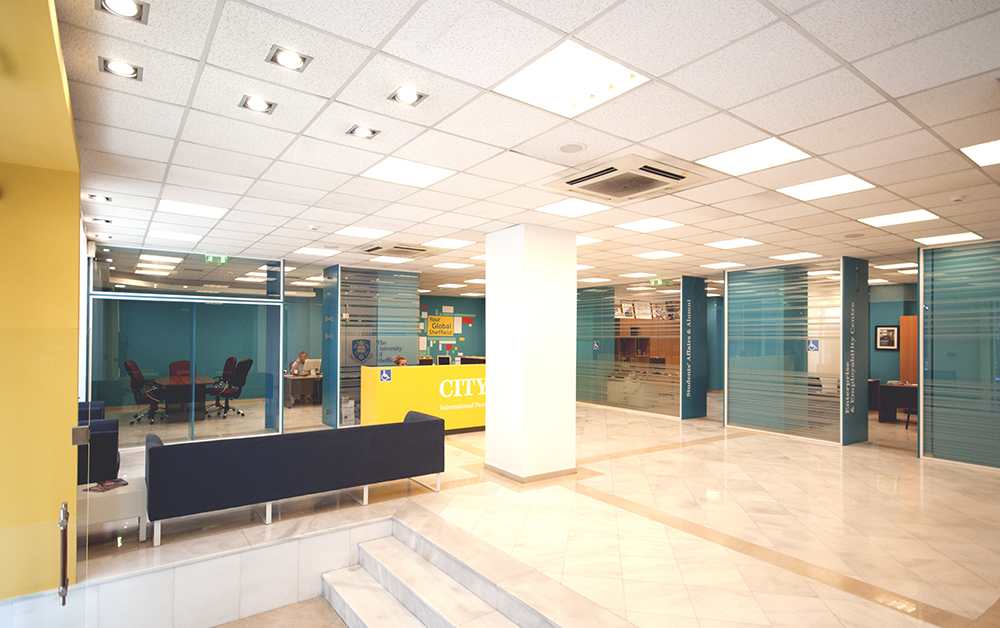 Architectural design/interior design : Lambros Antaras, Eleftheria Zografou
Location: Leontos Sofou, Thessaloniki
Area: 260,00 m2
Design : 2014
Construction: 2015
Photo credits : CAN studio
CITY College is the International Faculty of the University of Sheffield. It has been active in Greece for 30 years. In 2014 the university decides to establish a lobby for its premises on L. Sofou Street in the center of Thessaloniki.
The site encompasses student / public reception uses (secretariat, study information, liaison office, student club) and is the main entrance to the university's infrastructure. The aim of the overall study is to immediately highlight the dynamics of the representative image of the University of Sheffield and to create a friendly atmosphere for students.
The dual nature of the space (office infrastructure and reception / movement space) required a clear design handle. The facade of the main space remains free to allow light to reach the depth and the eye to perceive the whole space. In the background, a second interior is created on which the office spaces are distributed and in the middle there is a secretariat and a waiting area.
The color palette of the space and materials was determined by the university's logo.